Ambassadors of Hope: CLINIC Affiliates Help Promote Citizenship With USCIS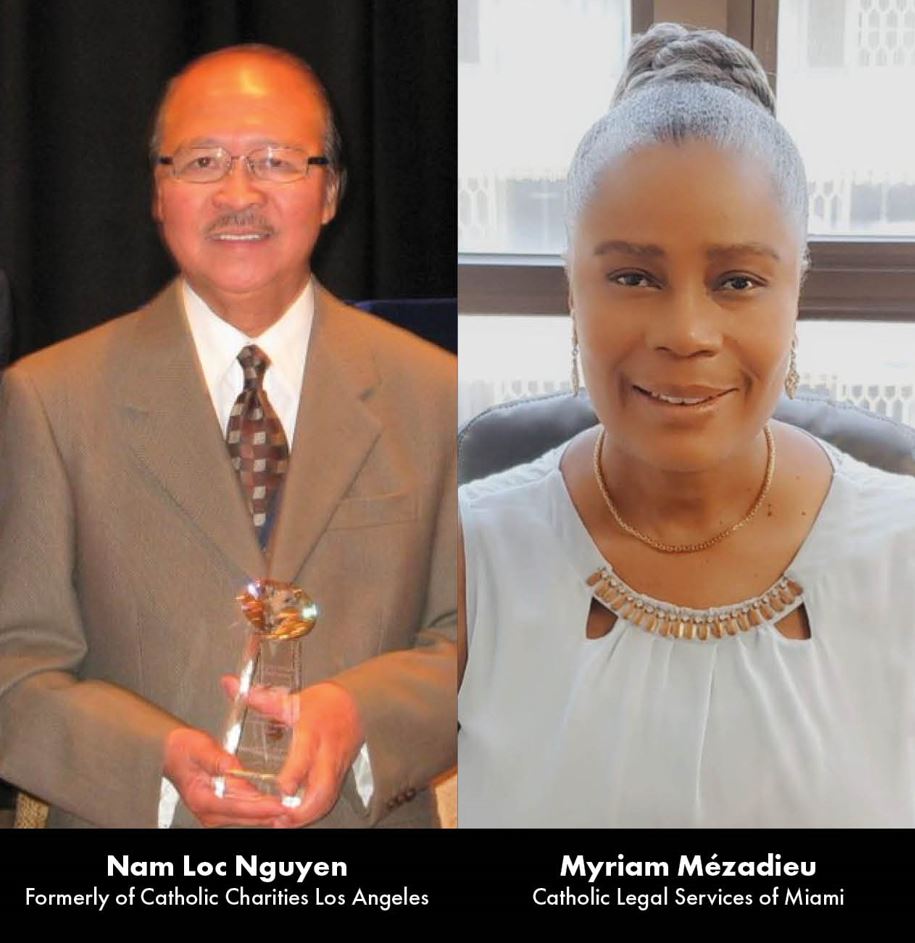 When they arrived in the United States many years ago, Myriam Mézadieu and Nam Loc Nguyen could hardly have imagined that decades later they would be leaders of a national program helping immigrants like themselves.
In July, Mézadieu and Nguyen were chosen by U.S. Citizenship and Immigration Services, or USCIS, as two of the eight new USCIS Citizenship Ambassadors from around the United States, or naturalized immigrants with extensive leadership experience who will serve as liaisons to promote citizenship among their communities. They are part of the first cohort of this new initiative, which seeks to reach the approximately 9.1 million U.S. lawful permanent residents, or LPRs, who are eligible to apply for citizenship but may lack the awareness or means to apply.
Myriam Mézadieu, Chief Operating Officer at Catholic Legal Services of Miami, is originally from Haiti, and will serve as ambassador for South Florida. Loc Nguyen, former director of the immigration and refugee department at Catholic Charities Los Angeles, is a former refugee from Vietnam, and will be ambassador for Southern California. Both served as leaders at CLINIC affiliate organizations for several decades and are well-known for their leadership, passion and warmth.
Stories of immigration
Mézadieu and Nguyen each immigrated to the U.S. in their youth.
Nguyen arrived in the U.S. in 1975 after the fall of Saigon to communism. Because he was in the military, Nguyen was the only one of his family of 12 — his parents and 10 siblings — to be evacuated.
"I was on the last plane out [of Saigon]," Nguyen told the Orange County Register. "That's why I cried when I saw the last plane out of Afghanistan." Many years later, Nguyen was reunited with his family after searching for them for a long time.
While living in a U.S. military camp after arriving in the United States as a refugee, Nguyen began volunteering with the refugee resettlement organizations and was eventually hired as an employee with the U.S. Catholic Conference, which led to his job at Catholic Charities, where he worked for 40 years.
"Throughout my work and career, I have always supported and promoted pursuing U.S. Citizenship because it provides many benefits for immigrants who come to this country, including the right to vote and choose the right person to represent them," Nguyen shared with CLINIC. "To me, receiving citizenship is a gift from the free world to refugees without basic human rights in the homeland they have left. Also, however, I feel that it is our duty to inform refugees of potential opportunities and resources and to speak up on behalf of the speechless."
When Mézadieu arrived from Haiti, she did not plan to stay in the U.S. longer than five years. She began working for CLINIC by running the daily operations for the Catholic Emergency Legal Aid project for Haitians after the 1991 coup d'état which sent Haitians fleeing to the Guantanamo Naval Base. In 1994, she co-founded an organization which would become Catholic Legal Services, Archdiocese of Miami, with her colleague, Randy McGrorty.
While helping many Haitians and other immigrants get legal residence in the United States, Myriam told the Miami Herald that she "felt compelled to help newcomers and encourage them to apply for citizenship as soon as they became eligible."
But she herself did not apply for citizenship until 2001 — over 14 years after she arrived in the U.S. She says the events of September 11, 2001, made her realize that her home was in the United States. "I was so moved [by the tragedy] that [submitting my application for citizenship] was the only way to show my support for this unique country," she explained.
New opportunities
Becoming USCIS ambassadors will help Mézadieu and Nguyen expand their outreach to their respective immigrant communities. They will be asked to speak about citizenship and their personal stories at USCIS events, as well as municipal gatherings, religious services, community education opportunities and more. It will give them a platform and tools to reach larger numbers of immigrants to share about the benefits of naturalizing.
"There are close to 1 million people eligible to naturalize in the state of Florida and over 600,000 in the Miami-Fort Dade area alone," Mézadieu told CLINIC. She says a meaningful part of her new role will be "reaching out to isolated communities to explain the benefits of U.S. citizenship for applicants and their children, how U.S. citizenship can help strengthen and reunite families."
Nguyen says he has long promoted the benefits of citizenship during his work at Catholic Charities, but the new role comes with added visibility. "When I was appointed to the role of Citizenship Ambassador by USCIS, it made my appeals more valuable and noticed by my listeners," he explained. He says he will value the opportunity to share accurate and official USCIS information to possible beneficiaries, as well as to convey the concerns of his community with the agency.
Connection to faith and personal values
Both Nguyen and Mézadieu connect their new work with USCIS to their deepest personal values, which also motivated their life's work at CLINIC affiliate agencies.
Nguyen, who is a Buddhist, commented on the unspeakable tragedy that continues all around the world prompting people to migrate, which he personally relates to having been a refugee fleeing the communist oppression in Vietnam. He says, "I believe that while God still grants me good health, I must speak up and fight for those in circumstances similar to what I previously experienced. The most effective and practical way to advocate for them is to vote. To do so, one must first have U.S. Citizenship. It is just that simple."
Outside of this role, Nguyen uses his other talents to uplift the refugee and immigrant communities. In fact, Nguyen is a minor celebrity among the Vietnamese diaspora community, having written a song about his experience of a refugee fleeing Saigon that went viral after a popular singer made a recording of it. "It was a gift to my people," said Nguyen.
Mézadieu cited a Scripture passage to explain why she is committed to the work she does: "If a house is divided against itself, that house will not be able to stand (Mark 3:25)." "The same is true if a family is torn apart, it cannot survive," says Mézadieu. "My lifelong goal is to uphold what I view as critical to my Catholic values, by reuniting and keeping families together." She calls family reunification a "moral value that strengthens our communities and our economy."
"Being a USCIS Citizenship Ambassador and living out my faith and believing in the nuclear family reinforces what has been instilled in me," Mézadieu concluded. "[In becoming a USCIS ambassador, I am] taking this great opportunity to reach out to eligible LPR families, not only in my little circle, but broader, anywhere that I can go."