Welcome in Schools: La Casa de Amistad and St. Adalbert's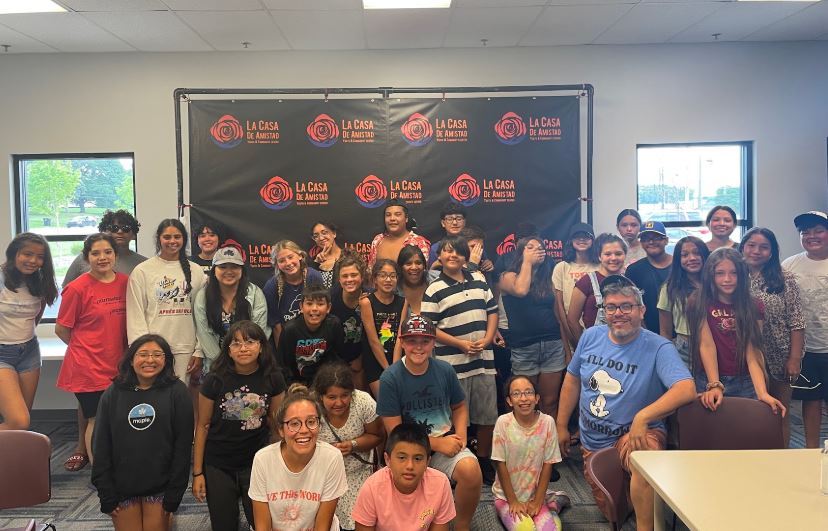 St. Adalbert's in South Bend, Indiana, is an immigrant parish through and through. Founded in the early 1900s by the Polish immigrant community, it has gradually become a thriving parish for Hispanic immigrants on the now heavily-Hispanic west side of the city. According to former pastor Fr. Paul Ybarra, C.S.C., 90 percent of parishioners are Hispanic, and an even larger percentage of students at the parish school have Hispanic heritage.
Within the culture of the school, Spanish phrases are thrown in among everyday conversation between students, and the semi-annual tamale sale is a major fundraiser. A favorite hangout spot for students is the Mexican ice cream store a few blocks away. The Spanish Masses are generally packed.
The Hispanic community surrounding St. Adalbert's is vibrant and tightknit, but not without its share and history of struggles. In the mid-1970's, in response to the challenges facing youth in the city's growing Hispanic population, a local priest from the Congregation of Holy Cross founded a community center out of St. Stephen's parish, a predominant Hispanic parish at the time, whose parishioners would later migrate to St. Adalbert after St. Stephen's closed in 2003. The community center, now known as La Casa de Amistad, or La Casa, grew and expanded over the next four decades to encompass not just educational and social programs for youth but also legal and other social services for the broader Hispanic immigrant community.
La Casa de Amistad is now a registered United Way agency and a CLINIC affiliate, offering a variety of programs that are always striving to keep up with steady demand from the local immigrant community. Although it is a secular non-profit organization serving immigrants of various backgrounds, it maintains a close connection to the local Catholic community. "Our mission still aligns closely with the social mission of the Catholic Church to serve the poor and vulnerable," said Humberto Delgado, assistant executive director and director of youth programs at La Casa.
Relationship between citizenship classes and youth programing
Involvement of immigrant families at La Casa often begins with the youth programming, which are after-school programs to help students stay on track academically. Delgado reports that about a third of students in the after-school programs come from local Catholic schools.
A huge task for La Casa is helping to address the gap in achievement of Hispanic students in the local school system, Delgado says. Beyond offering academic support, the after-school programs help to build community among immigrant families. "The kids from public, private, and charter schools get to know one another in the after-school programs at La Casa, and then their parents get to know one another, and community forms," Delgado noted. They often share rides and help one another out.
Through this network of community, word spreads about other services offered at La Casa, such as family support and legal immigration services. Many of the people enrolled in Citizenship and English language classes through La Casa also have students in the after-school programs.
Delgado noted that it is common to see the impact of parents' involvement in La Casa programs on the students, and vice versa. "If the students see their parents studying at night for citizenship or language classes, it can motivate them to try hard in school as well," he says. Likewise, grade school students can help tutor their parents in English or quiz them for their citizenship exams.
The Citizenship classes meet several nights per week, now in a hybrid virtual and in-person format. The goal is to prepare enrollees to take the citizenship exams required by the government as part of the naturalization process. Gaining the breadth of knowledge of U.S. history and government required to pass would be a daunting task for most native-born U.S. citizens, so it can be an enormous hurdle to overcome for new immigrants and English-language learners.
Responding to the needs of the community
La Casa continues to work in close relationship with several local Catholic parishes to address the evolving needs of the community, says Nanci Flores, citizenship and immigration program director at La Casa.
One example Flores cited was an ad hoc "rapid response team" formed during the years of the Trump administration, when rumors of ICE raids would spread throughout the community and cause panic. The team consisted of leaders at St. Adalbert school, parish, La Casa, and other community members. They would meet in emergency situations to gather resources and disseminate information for the immigrant community.
In addition, Flores and Delgado emphasized the role that St. Adalbert and La Casa played in addressing the heightened needs of the immigrant community during the pandemic.
Delgado lamented the toll that the pandemic took on the educational success of students from immigrant families. "If there was a big gap [for Hispanic students] in education before COVID, it's astronomical now," he said. The schools and the after-school programs worked hard to help immigrant families adapt to the online format of schooling during lockdown, but addressing the language and technological barriers facing immigrant families was a serious challenge that resulted in many students missing out on instructional time.
"Many [immigrant] parents were working two or three jobs trying to make ends meet. They didn't have time to become teachers or online learning coaches as well," Delgado said.
Finally, Flores emphasized the close partnership between the school and La Casa in promoting and providing legal services to immigrant families. St. Adalbert's hosts "Know Your Rights" trainings put on by La Casa and partner legal organizations to help families understand their legal options and how to interact with law enforcement. La Casa has sought to expand their citizenship and legal programs in recent years as demand has increased.
"In the years of the previous administration, we saw an uptick in interest in our legal programming, particularly the Citizenship classes," said Flores. "People became even more interested in ensuring their families were safe in the U.S."
Organizing for advocacy
Beyond helping promote legal and services for the immigrant community, St. Adalbert's also is involved in advocacy. The school hosts meeting of the local Faith in Action group, a major player in faith-based organizing for community justice, including for immigrant communities.
One recent victory highlighted the importance of the partnership of the school, La Casa, and local government. Picture identification is required for accessing banks, schools, government offices, etc., but undocumented South Bend residents are unable to get official government IDs. The city of South Bend partnered with La Casa de Amistad to issue municipal IDs, which are unofficial but accepted as identification in many South Bend institutions, including schools, following advocacy from Faith in Action, La Casa and other groups.
La Casa de Amistad has led the initiative to begin municipal ID programs in four surrounding cities, with support from local community advocates, including some Catholic parishes. La Casa de Amistad is currently working on implementing municipal ID programs in several other small cities in northern Indiana. Along with Faith in Action, they are campaigning for it to expand further, even to the state level.
Faithful welcome
"South Bend is a pretty welcoming community," said Flores. She says she is grateful for the ways that various organizations, including the local Catholic parishes and schools, demonstrate support for immigrant families.
"Faith is so important to many of our families at La Casa," she said. "And we wouldn't be here without [the Hispanic immigrant parishes.] We were born from them and rely on them as a key link to the immigrant community."